IT'S HERE!!The I'm Dickens... He's Fenster DVD is available for pre-order!
Order NOW and get a GENIUNE AUTOGRAPH from one of the stars!
CLICK HERE FOR ALL THE DETAILS!!!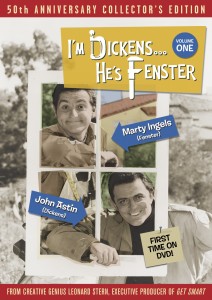 It was worth the wait! This 50th Anniversary Collector's Edition DVD includes three discs with the first 16 hilarious episodes, TONS of extras (audio commentary by John Astin, Marty Ingels, Leonard Stern, Yvonne Craig and more!)PRE ORDER NOW for delivery in time for the holidays, and you will receive a limited edition autographed postcard, YOUR NAME on Volume 2 and membership in the "Dickens and Fenster Architect's Circle" with EXCLUSIVE ACCESS to additional bonus features!

Meet Dickens and Fenster!
The names in question refer to the title characters of a witty, physical situation comedy that aired for one season (1962-63) on the ABC television network. Starring John Astin (The Addams Family) and Marty Ingels (The Dick Van Dyke Show) as two construction workers and bosom buddies, this hilarious comedy series was created by Leonard Stern, who executive produced Get Smart and many other hit classic TV shows.
The series hammered out 32 knee-slappingly funny episodes before it was cancelled by the network mere weeks before winning its time slot (defeating Sing Along With Mitch and Route 66). Over time, this comedy gem faded from memory, and was virtually forgotten. But that's not the case today. After languishing in the vaults for nearly 50 years, we're excited to announce that I'm Dickens He's Fenster will be released on DVD in 2011!
If you listened to Stan Laurel (of the famous comedy team Laurel & Hardy) -- and who wouldn't -- he regarded D&F as one of the funniest and most highly imaginative comedies to have its thirty minutes of fame on television.
Check out our site (authorized by the show's creator, writer and producer Leonard Stern) and learn about our official efforts to bring this long-forgotten, but brilliant classic TV sitcom to DVD. We have fun images, video of several of the best episodes, and on-camera commentary from Mr. Stern himself!
What you discover just might surprise you. Then if anyone asks the question, "Who are Dickens & Fenster?" - you'll know the answer!
For more information on the upcoming DVD release, sign up for the I'm Dickens He's Fenster newsletter--you'll receive the latest updates, notification of new video clips and updated material on the website, special offers on Dickens and Fenster merchandise and more!
Click here for the history of how the original films were found!