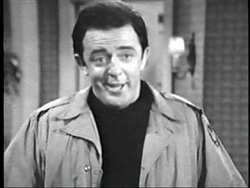 John Astin
Although best known for his role as Gomez Addams on the classic TV series The Addams Family, John Astin is a veteran of nearly 150 film and TV roles (including West Side Story, The Twilight Zone, and Batman), and an accomplished TV and film director. In 1969, he was nominated for an Academy Award for the short subject Prelude, which marked his directorial debut. He went on to direct dozens of TV productions including Rod Serling's Night Gallery and Murder, She Wrote. Astin also directed episodes of McMillan & Wife (created and produced by D&F's creator Leonard Stern).
For the character of Harry Dickens, John Astin was hired by Leonard Stern to serve as straight man (always the toughest and most misunderstood role in show business) to his manic comic counterpart Arch Fenster (Marty Ingels). Adept at both comedy and drama, Astin was the perfect choice to play the somewhat insecure, pensive, but always loyal best friend in this classic TV sitcom.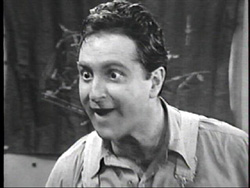 Marty Ingels
Born Martin Ingerman in Brooklyn, New York, Marty Ingels has appeared in nearly one-hundred movies and TV shows, including the classic TV series Bewitched, Adam-12 and The Dick Van Dyke Show. An astute businessman, Ingels has managed the career of his wife Shirley Jones (The Partridge Family) for the past thirty years, as well as other prominent celebrities. His raspy voice and staccato delivery has helped bring to life such TV cartoon characters as Beegle Beagle in The Great Grape Ape Show, Pac-Man, and AutoCat in The Cattanooga Cats.
Ingels whirlwind personality was ideal for the impetuous, frenetic but friendly Fenster -- counterbalancing his good friend, the more worried and deliberate Dickens.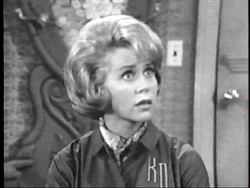 Emmaline Henry
Emmaline Henry's acting career started in the 1950's, but she didn't hit her stride until she was cast as Kate Dickens, loving wife and helpmate to Harry. Ms. Henry enjoyed several prominent roles during her twenty years in show business, including working with directors Alfred Hitchcock and Roman Polanski in Marnie and Rosemary's Baby.
However, Emmaline Henry is best known for playing Mrs. Bellows on the classic TV series I Dream of Jeannie, starring Barbara Eden and Larry Hagman. Tragically, she died of cancer in 1979 at the age of fifty.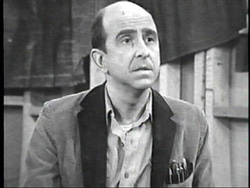 Frank De Vol
Born in West Virginia in 1911, Frank De Vol grew up in the sublime atmosphere of music. His father was a band-leader, and by age 14 young De Vol joined the Musician's Union. By the 1940's, he was writing arrangements for such musical legends as Ella Fitzgerald, Nat King Cole, and Tony Bennett. By the 1960's "music by De Vol" became a familiar credit for numerous movies and classic TV shows such as Pillow Talk, Guess Who's Coming to Dinner, My Three Sons, Family Affair, and The Brady Bunch.
Frank De Vol perfected his trademark deadpan persona while playing the role of Dickens & Fenster's boss Mr. Bannister, which he would later reprise while portraying the lugubrious bandleader Happy Kyne, on the 1970's talk show parodies Fernwood 2Nite and America 2-Night. De Vol died in Lafayette, California in 1999 at the age of 88.